The tears surfaced and rolled down my cheeks as I observed poverty far greater than I thought humanly possible. As I walked the very streets that Mother Theresa walked in Kolkata, India, I noticed something peculiar as I looked beyond the trash, makeshift shanties and barefoot children. I saw smiles and heard laughter!
How could this be possible?  Didn't they know what they were missing, lacking and deprived of?   Though their circumstantial challenges seemed great, they were happy – focused on what they DO have, not what they don't.  Right before my eyes, I was witnessing what choosing to be happy looked like.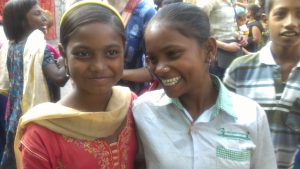 Holocaust survivor Viktor E. Frankl,  and author of Man's Search for Meaning said, "Everything can be taken from a man but one thing: the last of the human freedoms—to choose one's attitude in any given set of circumstances, to choose one's own way." 
Game changer.
I went to India to inspire, teach and change the world, but instead it was ME that was inspired, taught and changed.  Forever.  
I realized that if  I desired to live a JOY filled life it was up to ME – it was a choice. My choice.
"When you change the way you look at things the things you look at change." ~Wayne W. Dyer
I have never been a materialistic person, well at least I thought I wasn't.  Money didn't grow on trees at my house, but I never felt I lacked any of the essentials.  There were days I stood in my closet staring at a long rack of clothes uttering "I don't have a thing to wear." Pathetic.  And there were days I opened the refrigerator, you know the big ice box that keeps food from spoiling for days and sometimes weeks on end, and while staring at shelves filled with food I mumble, "We don't have a thing to eat – let's go out." Embarrassing. 
On the streets of Kolkata, I  made a conscious decision to be HaPpY. Yes, it's no secret that life's a rollercoaster filled with twists, turns and loop-de-loops.  I've yet to meet anyone who is challenge and trial free. And I would never pray to have less trials or to have my challenges removed – I feel that's all part of the journey.
If Viktor Frankl is correct, and the only thing I am really in control of is my ability to choose my ATTITUDE then  I'm choosing to enJOY the journey every step of the way. It's a choice.
I've discovered in my almost 52 years of life there are 5 sure ways to ensure HaPpY-ness.
1. Be Grateful.  Appreciate the little things.  Keep a gratitude journal at the side of your bed.  And at the end of each day write ONE thing that you are grateful for and FIVE reasons why.  This exercises creates a mind shift, training our brain to scan for happiness.  Being grateful adds beauty to life.
2.  Be Others Focused.  When you look for opportunities to serve expecting nothing in return, a beautiful thing happens; you forget about your worries and woes, endorphins are released, thus creating a shift in your mood. Being others focused brings joy to life.
3.  Be Creative – step outside the box.  Being creative adds pleasure to life – it puts the FUN in life and relationships. I love the dad who cut his jeans into short shorts to show his daughter that short shorts aren't that cute – he demonstrated creative parenting.  I love him not just because he is my husband (smiley face), but because he looks for opportunities to lighten up tough or difficult situations.  That doesn't mean to not take life serious, it just means to DO something each day that makes you and others smile.
"Smiling stimulates our brain's reward mechanisms in a way that even chocolate, a well-regarded pleasure-inducer, cannot match."
4.  Be YOU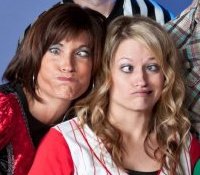 Everyone is an unrepeatable miracle.  Share your gifts and talents to lift and serve others.  Being YOU adds VALUE to life.
5.  Be Forgiving.  Forgive yourself and forgive others.  This is not always easy and it does not mean you are condoning whoever hurt you, it means you are CHOOSING to move forward, and a better person for it.
"To forgive is to set a prisoner free and discover that the prisoner was you."  ~Louis B. Smedes
As I incorporate these five actions, a paradigm shift happens, just as it did when I was in India.  I begin to automatically scan the world looking for good and to see the positive in people, situations and circumstances.  Beautiful.
Life's Short Lesson: CHOOSE to be Happy.
Highlights of my trip to India.