Once a month I blog for Northern Lights, an LDS blog site for Mormon conversations on Sexuality, Gender Identity and Faith. If you follow Becky's Mack's Blog of Mild Chaos, or follow me on Facebook or perhaps know me in real life, you know I am very passionate about my religion, faith and family. They are the foundation and core of who I am.  Today I once again speak from my heart sharing my latest Northern Lights blog post with my readers here…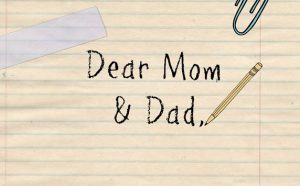 Dear mom and Dad,
I am gay…
This blog post is to all the mothers who are grateful none of their children are gay. And also, to the fathers who know all the gay jokes and don't hold back letting their sons know how they feel about gays. "Can you imagine anyone choosing to be gay?" they gasp.  I'm embarrassed to admit, I once shared those same views.
I write to you parents because my inbox is filled with messages from young men describing all the reasons why they fear telling you – their own mom and dad.  They have gone over every possible scenario of coming out verses continuing to keep their same-gender attraction a secret. They have come to the conclusion that taking their life is the better option.  Then as a one last ditch effort to find answers, they stumble upon my video and feel a pull to reach out.
We talk. We cry. I do all I can to give them hope, sharing resources and reasons to live one more day, week, month  But unfortunately I can NOT promise them that their father will not beat them.  I can not promise them that they will not be kicked out onto the streets.  I can not promise they will be accepted and loved by their family.  Why? Because this is happening right here in our communities.
If people just simply lived the golden rule, my job would be so much easier. People often ask me, "What do you do?" I rattle off, "I'm a mom, grandmother, speaker, author, BUT do you REALLY want to know what do? I SAVE lives"  
AND…
It might be YOUR son, daughter, brother, sister, father, son-in-law that I am corresponding with – YOU don't know and I will never tell, but I promise you if you REALLY knew them and you REALLY loved them you would see them as God sees them and you would LOVE them all the more, AND they would not be wondering if checking out of this life is a better option than telling you of their struggles.
They are some of the most spiritual, compassionate human beings I know.  If I had the means and the way, there would be no homeless teens living on the street, they would all live in my home, feel loved, needed and valued.
Our Savior Jesus Christ showed us the way – He forgave the repentant, healed the sick, and served without ceasing.
Above all, Jesus was the perfect example of love. "A new commandment I give unto you, That ye love one another; as I have loved you. …" (John 13:34.)
When was the last time you put your arm around someone you know is gay, and asked, "How are you doing?"
When was the last time you invited someone you know is gay and their boyfriend or girlfriend over for dinner?
They are NOT contagious, they are NOT pedophiles, they will not teach your children to be gay – they are people – Just like YOU! They fear you as much as you fear them – they don't know how you are going to respond – will you react with kindness and Christlike love or hatred and fear?
One of the most asked question I get from same-gender attracted young men is, "Why did God make me Mormon and Gay?"  a seemingly no-win situation that they have contemplated, pleaded and prayed over.  When I don't know the answer, I resort to what I do know, "I know God lives and I know He loves all of His children.  He did not send anyone to earth to fail or to carry an unbearable cross. I know Joseph Smith was a prophet of God and that Thomas S. Monson is a true and living Prophet today. I know that Christ bled from every pore for me, you and yes, even our gay brothers and sisters."  God has not given us all the answers, and I'm okay with that, I trust Him.
An Eternal Perspective  As stated on the official church website mormonsandgays.org, "We live in an imperfect world. Not all the pieces of the puzzle seem to fit. But having an eternal perspective and believing in a just and merciful God gives us hope that all will work out in the end."     
Two of the most asked questions from parents with a gay son or daughter are, "How do I embrace both my gay child and my LDS faith?" and "Can members of the church support marriage equality and still hold a temple recommend?"  The first question for me is easy to answer, the second question not so much.
Elder Todd Christofferson of the quorum of the twelve apostles answered those questions and many others in an interview with KUTV, following the passing of the Utah Non-Discrimination Bill, March of 2015.
*Visit LDS Voice(s) of Hope to hear our journey, along with many other Voices of Hope.